Posts tagged
Patriot
0
I was deeply saddened this weekend to hear the news that Cathie Cardwell, wife of Rand Cardwell, had passed away.  I wish to offer my condolences as my heart goes out to Rand and their family.  Out of the sadness a smile did come to my face thinking back to the times in the past that I did have the privilege of their company and reflecting back with warmth to numerous meetings in Knoxville, one in Alcoa, the April 15, 2009 Knoxville Tax Day Tea Party rally and an End The Fed rally in Nashville, which Rand and Cathie were kind enough to travel to and Rand was kind enough speak at.  One would be honored to spend time with a couple that embodied the warmth, kindness and a true patriot spirit that Cathie and Rand exhibited, and honored and fortunate I do feel.
###
Source: http://oathkeepers.org
By Stewart Rhodes
In Memory of Cathie Cardwell, Great American Patriot, Poet, Musician, Wife, and Mother
I just learned the very sad news that Cathie Cardwell, wife of Oath Keepers BOD member Rand Cardwell, has passed away.   Here is Rand's message from his Facebook page:
Yesterday, I lost half of me. She will always be in my heart. Cathie Schoo-Cardwell was a very special lady. Her fight has ended. We will be having a celebration of her life around July 4th…. her birthday is the 3rd. All of her family, friends and co-workers will be invited. I'll be sure to announce it on FB. I realize that many folks want to send flowers, but please instead just give a donation to the American Cancer Society or other worthy charity in her honor. Thanks to everyone for your kind words and support.
Rand also posted:
Here is a link to the blog that Cathie (Cathie Schoo-Cardwell) kept on her long journey in her fight with cancer. http://enlightenedbycancer.blogspot.com/ – It contains some of her poetry, thoughts and spirit. I hope you enjoy.
Cathie fought hard against cancer for years, with courage and determination, and all through it, she also fought hard for her country, and she supported Rand's participation in Oath Keepers 100%.   I had the honor of meeting her back when I flew into Knoxville, Tennessee to speak at the April 15, 2009 Knoxville Tax Day Tea Party.   That is how I first met Rand and Cathie, as they were part of the organizing team for that event and they were the ones who invited me to speak and made all the arrangements, including giving me a place to stay.
At that rally, Cathie sung a song that she had written herself, called Revolution: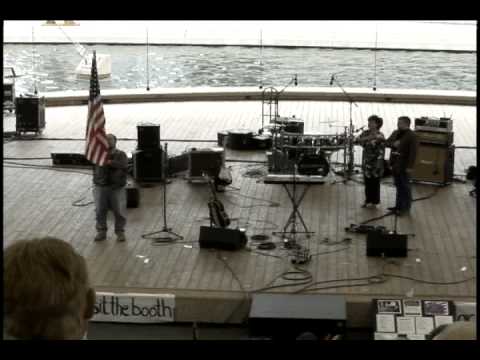 What a beautiful song, from the heart of a beautiful woman.  After that rally on April 15, 2009, Cathie and Rand flew up to attend our rally on Lexington Green, Massachusetts on April 19, 2009, where she joined in on our oath ceremony. From that moment on, Rand was part of our leadership team, and Cathie was right there with him all the way. Behind – or beside – every great man is a great woman, and Cathie was a great woman. We are lessened by her passing. We have lost a great Oath Keeper and friend, American has lost a great patriot, and her family has lost a great wife and mother.   Words fail me to adequately describe our grief at her passing.
Our hearts and our prayers go out to her family and especially to Rand.  I spoke with Rand on the phone, and he reiterated what he said in his Facebook post: instead of flowers or cards, please use that money to donate to the American Cancer Society or some other worthy charity that helps fight cancer, to help others who are fighting the same fight.
If you would like to leave a comment on Rand's Facebook page, I know he would appreciate it.  He is a quiet, private kind of person, but he will read your comments and I think it would help him get through this.
Stewart Rhodes