Posts tagged
critical
0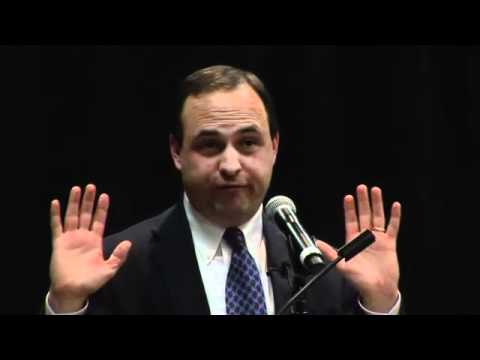 Best selling author Thomas Woods was Monday's keynote speaker and addressed the sheriffs and their guests at the evening's banquet, delivering a sweeping and humorous history of nullification by the states, and how it comports with the sheriffs' efforts to nullify federal and state tyranny. "And suddenly people are peering into the long neglected Thomas Jefferson toolkit. And they're looking for things that might work. Now some of these things, like nullification, I have to warn you, are not approved by the New York Times. And, in fact, what I tell you tonight does not fall inside that box that all good Americans are supposed to confine themselves to. We're supposed to be in that box. You all know it. It goes from Joe Biden to Mitt Romney. You're allowed to be somewhere in there. But, if you stray a little bit over here citizen, be careful, be careful – you're not respectable. Well my view is, is that it's our job as good and decent Americans to crush that box into the ground and then set it on fire." On January 30-31, 2012 over 100 county sheriffs and peace officers, from over 30 states, united to uphold their oaths of office, protect citizen liberty, and stop state and federal tyranny. Inspired and led by the example of former Graham County Arizona Sheriff Richard Mack, the meeting, which was held in Las Vegas, was funded by the generous donations of thousands of Americans from all fifty states, as well as the support of freedom loving sponsors.  The agenda included training on the Bill of Rights, Interposition, Nullification and the importance of Property Rights versus Privileges.  Many sheriffs, a police chief and even a county commissioner shared their experiences, challenges and actions taken to uphold their oaths of office, directly with the sheriffs in attendance. The videos of these presentations are shared here on the County Sheriff Project YouTube channel. We hope that you will share these videos with your own county sheriff and all the oath takers in your county.  To read the meeting agenda, see the event sponsors, learn more and show your own support for helping back more constitutional county sheriffs, visit http://www.CountySheriffProject.org   Think outside the gun!
0
CNN reporter Dana Bash receives some choice words from Ron Paul supporters who object to her consistently negative and biased coverage of Dr. Paul during the 2012 presidential primary race. The title of this film references the blowback that Sean Hannity received during the 2008 race. No actual snowballs were thrown
Filmed after the primary rally on January 10th, 2012 in Manchester, NH.
Original material by Ron Paul Films © Not affiliated or paid for by the official Ron Paul 2012 campaign.
[CIM Comment]
All you have on MSM is a bunch of poor quality commentators pretending to be journalists.
Now more than every we need the Champion of the Constitution!
Please visit Ron Paul's official campaign site by following the link below and donate today!