Posts tagged
black out
2
Source: http://www.infowars.com
By Paul Joseph Watson
Infowars.com
Wednesday, August 15, 2012
Federal agency blacks out amount of bullets being bought
The Department of Homeland Security has redacted information relating to the quantity of bullets it is buying following a controversy concerning the agency's purchase of over a billion rounds of ammo, which many fear is a sign the federal government is preparing for civil unrest in the United States.
Despite the fact that documents are only supposed to be redacted if authorized by Congress or for national security reasons, a solicitation posted on the FedBizOpps website yesterday concerning ammunition purchases made by the DHS on behalf of Immigration & Customs Enforcement (ICE) contains numerous blacked out sections.
The classified portions of the document include references to the amount of 223 62 and 223 64 grain ammunition being purchased.
The solicitation explains how the contract put out by the DHS to purchase the ammunition was not subject to "full and open competition," a process justified by what the DHS claims was an "unusual and compelling urgency" to acquire the bullets, noting that there is a shortage of bullets which is threatening a situation which could cause "substantial safety issues for the government" should law enforcement officials not be adequately armed.
The Department of Homeland Security's decision to black out sections of the document, including the number of bullets being purchased, is likely to be related to a massive controversy which has snowballed over the last few weeks pertaining to concerns as to why the federal agency has purchased well over a billion rounds of bullets over the last 6 months alone.
0
Source: http://thenewamerican.com
By Joe Wolverton, II
Despite the best efforts by the mainstream media to black out all news related to Ron Paul, word is leaking out that the Texas Congressman's strategy to win delegates is succeeding.
First, the news from Missouri is very encouraging to those who recognize in Ron Paul the best hope for a President who will honor his oath of office to "preserve, protect, and defend the Constitution of the United States."
On March 17, the Republican Party Caucus held in St. Charles County, Missouri, made national news after confrontations there resulted in two arrests and the failure of the group to award any delegates.
Last week, the county GOP tried again and this time the police were not involved, and delegates to the state and district conventions were elected and every one of the 147 delegates who will attend the two conventions will represent Ron Paul.
Paul's Show Me State success comes despite the fact that former candidate Rick Santorum won the caucus vote in Missouri with 55 percent of the vote. Presumed nominee Mitt Romney finished second with 25 percent, and Ron Paul came in a distant third with only 12 percent of the vote.
The March 17th venue wasn't expecting such a huge turnout. It swirled with rumors of rampant establishment-candidate favoritism, rule bending and disagreements about decorum. Tensions were high and things got out of hand. When we reconvened on April 10, things were much improved. The event was very organized and successful; of course, Ron Paul won very handily.
The GOP in Missouri is clearly dealing with new and growing forces within the party; the Ron Paul effort is more committed and organized than any party has witnessed in recent history — even more so than Obama's '08 machine. Paul's successes are steadily creeping up in several areas around the country, including Missouri, Minnesota, Colorado, Alaska, Maine, Texas and many more.
There is convincing evidence that Carter may be correct in his assessment of the actual delegate landscape in the Republican Party's bid to take control of the White House from Barack Obama.
2
Source: http://cedarrapidsactivist.wordpress.com
Thanks to (@sibzianna)
Media Blackout on Troops who Rallied for Ron Paul in Washington DC on President's Day
I have never been as proud to be an American as I am now and that wouldn't have been possible if it weren't for our troops and their passion for Ron Paul.
Our troops were warned:
This was posted on the RON PAUL IS THE CHOICE OF THE TROOPS Facebook event page by Kevin Audrain, who claims to be active duty Navy and was leaked to me by multiple unconfirmed sources.
—–Original Message—–
From: Weger, Joel A CIV OGC, Ethics [mailto:joel.weger@NAVY.MIL]
Sent: Thursday, February 16, 2012 8:17
To: ETHICS@LISTSERV.LAW.NAVY.MIL
Subject: [ETHICS] Partisan Political March
Importance: High
It has come to our attention that a partisan political march targeting
military personnel is being organized for February 20, 2012. See link
below:
http://www.facebook.com/events/192677970828185/?ref=notif&notif_t=event_invite
As a reminder, active duty personnel are prohibited by DoD Directive 1344.10
paragraph 4.1.2.10 from marching in a partisan political parade regardless
of whether they are in uniform or civilian clothes. Reservists not on
active duty and retirees may not march in uniform pursuant to paragraph
4.1.4. Reservists not on active duty and retirees may march in civilian
clothes provided that they do not otherwise act in a manner that could
reasonably give rise to the inference or appearance of official sponsorship,
approval, or endorsement.
The directive is a lawful general regulation. Violations of paragraphs 4.1.
through 4.5. of the Directive by persons subject to the Uniform Code of
Military Justice are punishable under Article 92, "Failure to Obey Order or
Regulation."
In addition, DODI 1334.01, paragraph 3.1.2 prohibits the wearing of the
uniform by members of the armed forces (including retired members and
members of reserve components) during or in connection with political
activities.
You may wish to advise your command regarding this particular event because
of the apparent solicitation of active duty personnel.
Joel A. Weger
Senior Attorney
Department of the Navy
Office of the Assistant General Counsel (Ethics)
703.614.XXXX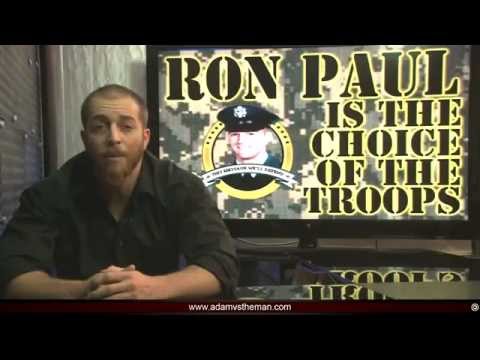 More than 18,000 people were invited to attend to attend the "RON PAUL IS THE CHOICE OF THE TROOPS! (march on the White House)". Two-thousand-one-hundred and fifty-one people committed to going to the march while 964 people clicked maybe.
I tweeted Sean Hannity and Bret Baier of Fox News two days before the rally took place to get their take on the story and got nothing.
I didn't think the mainstream media could disappoint me anymore than they already have. When the special news report came in on the television they said nothing about what was going on in Washington DC with our troops and instead talked about war propaganda in Iran.
The troops stood up for our freedoms for the first time that I know of, inside our own borders and it wasn't even considered newsworthy?
I don't understand what is wrong with our media!
I tweeted CNN Wolf Blitzer, Brooke Baldwin, and even went as far as accusing CNN of ignoring it on purpose! I told them that they were losing credibility by the minute…
I was fortunate enough to watch this unfold live on the internet thanks to feeds available from livestream and Ustream.tv but not one word has been uttered on the television.
Here was my take on the thing.
On February 20, 2012, on Presidents Day, our troops gathered for a rally in Washington DC to march in support for their candidate of choice, Ron Paul.
I was moved to tears as our troops marched in formation on our nation's capitol shouting "President Paul", "end the FED", "end these wars", and "Ron Paul revolution legalize the Constitution".
For the first time since 9/11 I felt American Pride! It is the most patriotic event I've ever saw in my life.
Our troops stood silent and saluted for eight straight minutes to honor those who committed suicide since the Obama Administration took office. It was eerie to think about because for every second that passed a veterans life was lost due to suicide was honored.

Our troops challenged the legal advice given to them and I am thankful they did.
"We the people" must stand against this tyrannical government and the corrupt monetary system that has wreaked havoc all over the world. We can no longer say nothing or what freedom we do have will be forever gone.