Tennessee
0
I know the folks up the road at the University of Tennessee (UT) are some busy people, but this I never would have guessed.
Source: http://www.occupycorporatism.com
By Susanne Posel
Occupy Corporatism
Bill Gates Awards $1 Million to Creator of Cow-Tendon Condom
The Bill and Melinda Gates Foundation (BMGF) have found their winner of the $1 million prize for most innovative design of prophylactic to be sold on the market to protect against over-population.
Medical scientists out of San Diego, California have come up with a condom made from collagen extracted from cow tendons.
This superelastomers-based polymer can be stretched beyond the limitations of current prophylactics while maintaining its shape.
The condom will be malleable and can be manufactured thinner to "enhance the user's experience."
Cost for this cow-tendon condom is expected to remain low. Re-texturing of the condom would facilitate softness.
Jimmy Mays, professor of chemistry at University of Tennessee (UT) researched and developed a working prototype that won the prize.
Praise for the new cow-tendon condom pointed out: "Jimmy's work is exceptional and exemplary of how the research done in the labs here at UT has the potential to catalyze change throughout the world. This award enables him to find more solutions to problems that have a dramatic effect on our lives."
Back in March, the BMGF offered a $100,000 grant for funding an innovator who can design "the next generation condom".
The promise holds a total of $1 million to the recipient who presents the most viable prototype.
According to the Grand Challenges in Global Health (GCGH) statement: "Is it possible to develop a product without this stigma, or better, one that is felt to enhance pleasure? If so, would such a product lead to substantial benefits for global health, both in terms of reducing the incidence of unplanned pregnancies and in prevention of infection with HIV or other STIs [sexually transmitted infections]?"
The GCGH explains that the problem with condoms is a "lack of perceived incentive for consistent use." By manipulating the public's perception of condoms and "our understanding of neurobiology" there could be a transformation into the technology by enhancing pleasure, thereby coercing more males to use condoms.
This Next Generation Condom (NGC) would have to "significantly preserve or enhance pleasure in order to improve uptake and regular use."
According to BMGF, condoms are a "life-saving tool" because they protect against transmission of HIV. They are a cheap form of contraceptive that should be used more often to prevent life-risking behavior.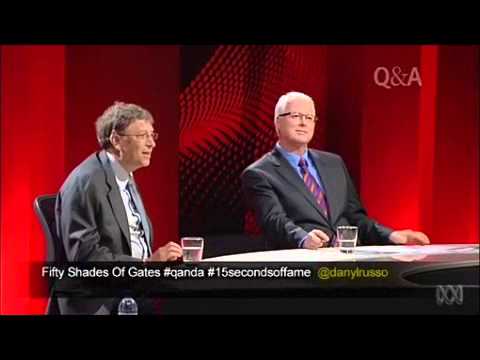 Image credit: http://www.occupycorporatism.com
---
About the author:
Susanne Posel Chief Editor, Investigative Journalist OccupyCorporatism.com Radio Host: The Region 10 Report, Live Thursdays 1-3PM PST on American Freedom Radio.